Freak sub-Arctic diamond going on sale
According to 
https://www.rt.com/
 this freak diamond is going on sale!  It is a staggering 187.7-carat rough diamond and is called Foxfire, hailed from the Diavik mine!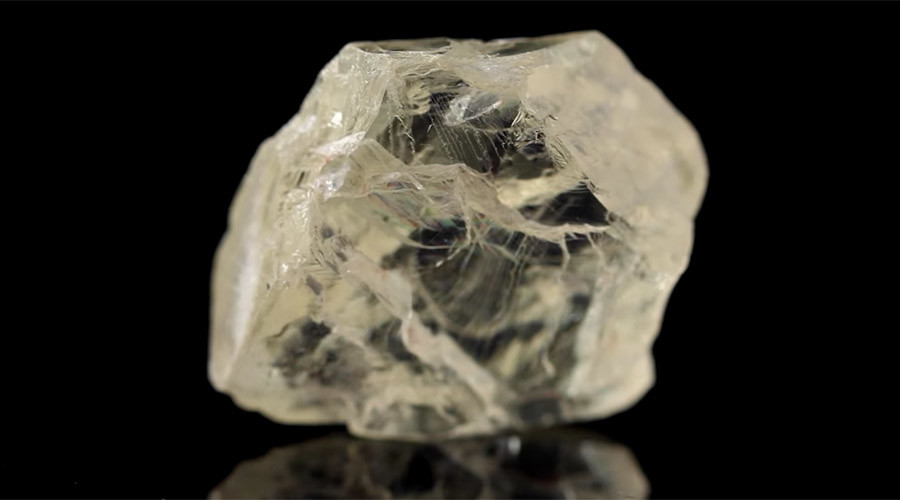 The article says that the freak diamond, "is to be auctioned this month. It was discovered 220 kilometers south of the Arctic Circle, where big gem-quality diamonds aren't supposed to be.
The rare stone was unearthed by a British-Australian miner Rio Tinto at its Diavik diamond mine in Canada's Northwest Territories.
Bloomberg
 says that: "Named for an aboriginal description of the Northern Lights—roughly translated to an undulating fox's tail—Foxfire escaped being crushed 130 miles (210 kilometers) south of the Arctic Circle in the Northwest Territories. The Diavik mine is remote, surrounded by rocks and too many lakes to count, with caribou and grizzly bears the nearest neighbors. In winter, daylight lasts fewer than six hours and the temperature can drop to minus 50 Celsius (minus 58 Fahrenheit). Approaching from the air, the Ice Road leading to the mine appears as a turquoise ribbon snaking across tundra and semi-frozen water. It's been unseasonably warm in Canada's north and this year the road was only open for eight weeks. The only other way in is from the sky."
READ MORE: Biggest diamond in 110 years found in Botswana (PHOTOS)

Discovered in August last year, the diamond is one of the largest rough diamonds mined in Canada and the largest ever for a Rio Tinto mine, according to the company.
"It really is a miracle that it was found,'' said Alan Davies, head of diamonds and minerals at Rio Tinto
The company expects the stone to produce at least one 50-carat polished diamond. The company hasn't yet estimated its value.
A potential bidder, represented by David Shara of Optimum Diamonds, is considering shaping the gem into a 100-carat maple leaf.
The stone is so unusual that it might be kept away from jewelers and remain unpolished as a rough stone, according to Shara.

"It is something extraordinarily rare that has come from North America," he said.
In search of prospective bidders the gem has been showcased at Kensington Palace in London, New York's Langham Place Hotel and its next stops are Antwerp and Tel Aviv. Bids will be unsealed on June 1."  But so far no further news!  We will keep you posted though!
READ MORE: Rare purple diamond found in Australia fit for a king… or Prince  
The Diavik #diamond mine has produced 100 million carats of rough diamonds since '03 https://t.co/JCHM6ZoHB8 #mining pic.twitter.com/084IVPqGje

— Rio Tinto (@RioTinto) 17 May 2016